Volume 21, Number 7. May 14, 2013.
---
Contents
Current degree day accumulations
---
Current degree day accumulations
Location: UMass Cold Spring Orchard, Belchertown, MA
| | |
| --- | --- |
| | 13-May, 2013 |
| Base 43 | 399 |
| Base 50 | 236 |
---
Current bud stages
Location: UMass Cold Spring Orchard, 14-May, 2013
| | |
| --- | --- |
| Honeycrisp apple | full bloom + |
| McIntosh apple | 90% petal fall |
| Rainier cherry | 50-90% petal fall |
| PF-14 Jersey peach | petal fall |
| Gold Bosc pear | 95% petal fall + |
See pictures of bud stages here: http://extension.umass.edu/fruitadvisor/bud-stages. Note that this will be the last bud stage report for 2013.
---
Upcoming pest events
Coming events

Degree days
(Base 43)

Green fruitworm flight subsides

251-451

Spotted tentiform leafminer 1st flight peak

268-404

Spotted tentiform leafminer sap feeders present

343-601

Oriental fruit moth 1st flight peak

347-547

Lesser apple worm 1st catch

363-561

San Jose scale 1st catch

430-614

Codling moth 1st catch

401-575

McIntosh petal fall

446-524
---
Upcoming meetings
http://extension.umass.edu/fruitadvisor/upcoming-events
May 14 (Tuesday): UMass Fruit Team Twilight Meeting, UMass Cold Spring Orchard, 391 Sabin St., Belchertown, MA. 5:30 PM. 1 pesticide re-certification credit will be available. $20/25 meeting charge.
May 16 (Thursday): University of Rhode Island/UMass Fruit Twilight Meeting,Old Stone Orchard, 33 Cold Brook Rd., Little Compton, RI. 5:30 PM. 1 pesticide re-certification credit will be available. $20/25 meeting charge.

---
The way I see it
We largely escaped a bullet last night as I have had no reports of frost/freeze damage with temperatures in the low-mid 30's. Hopefully this is the last frost/freeze event we will have to deal with.
Regarding disease and insect issues it is really pretty quiet right now. Plum curculio should not be an issue until fruit reaches 6-7 mm in size, and by then most will have applied a petal fall insecticide to the whole orchard. (Wait until full petal fall to avoid poisoning bees!) The petal fall spray (in peaches and apples) should take care of Oriental fruit moth. I have observed some black cherry aphids starting to show up in sweet cherries -- Movento is a reduced risk insecticide and that would be my first choice to treat black cherry aphid at petal fall. Codling moth and oblique-banded leafroller pheromone traps should be placed in the orchard now. Fire blight risk has waned (for now) but we are still in a high-risk period for apple scab -- stay covered up with preventive fungicides such as Captan, EBDC's, or Flint. Next time the weather warms, insect and disease pressure will pick up dramatically!
We hope to see you at one of our twilight meetings this week -- on May 14 (Tuesday) we will meet at the UMass Orchard in Belchertown and on May 16 we are headed to the Rhode Island shore (Old Stone Orchard, Little Compton). So mark your calendar for next week's meetings. JC
---
Insects
Oriental fruit moth (OFM) first adult moth catch was app. May 1 at the UMass Orchard in Belchertown. Traps have caught upwards of 100 moths (cumulative catch). The petal fall spray starts to control OFM in both peaches and apples as it is applied. See below for information to time subsequent spray(s). Mating disruption can also be used for OFM.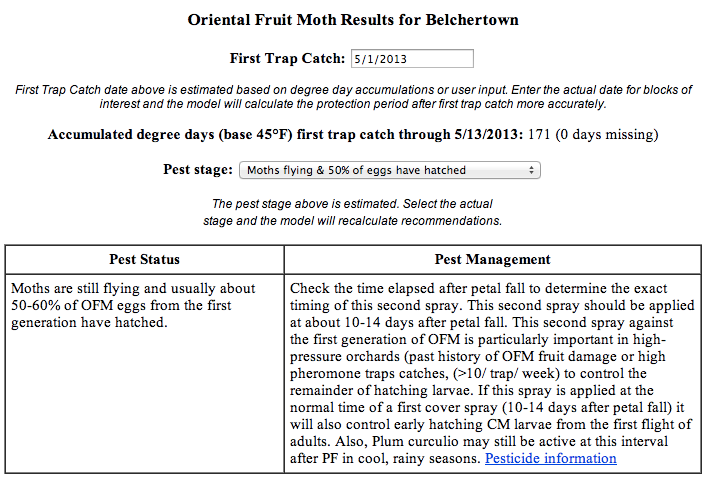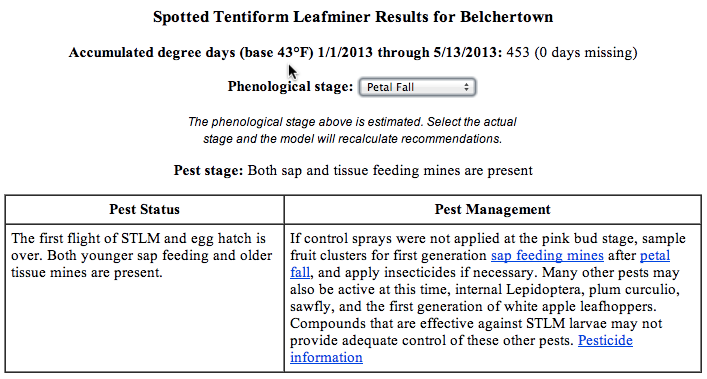 It's time to deploy pheromone traps for codling moth (CM) and oblique-banded leafroller (OBLR) to set Biofix for later treatment. Not treatment suggested for CM at this time but see below for OBLR tidbit.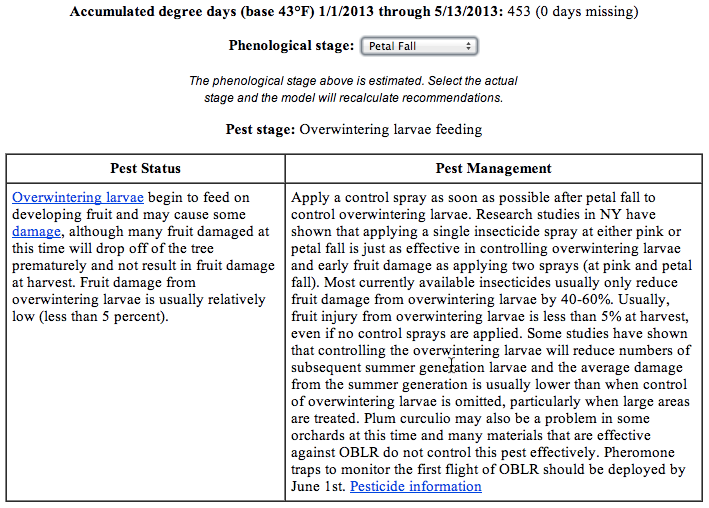 There has been much press recently about bee (honeybee) decline and the role pesticides (among many other factors) may play. EPA issued a significant report on this topic a couple weeks ago -- Report on the National Stakeholders Conference on Honey Bee Health. It can be summarized as follows: "The report shows that the decline in pollinator health we have observed is due to multiple factors, including parasites and disease, genetics, poor nutrition and pesticide exposure. The Federal Government is working collaboratively to tackle these issues. This effort is taking place across the country, from farms to bee yards to our nation's top research labs. Solving this challenge will require continued collaborative work between the federal government, researchers, beekeepers, growers, industry and the public. The report is the product of unprecedented collaboration and shows that while there is much work yet to do, solutions to this serious challenge are being developed." Please be cautious and aware of bee issues when applying insecticides at any time. Here is a nice document from Purdue -- Protecting Honeybees from Pesticides. Everyone who applies pesticides to tree fruit should read it.
---
Diseases
As you can see below from the current RIMpro output, there was a significant apple scab infection period beginning app. May 8 last weekand continuing through May 12. Very important to have maintained good fungicide coverage through that period. If not, you should start looking for scab lesions in about a week! At this point in time there are no forecast apple scab infection events.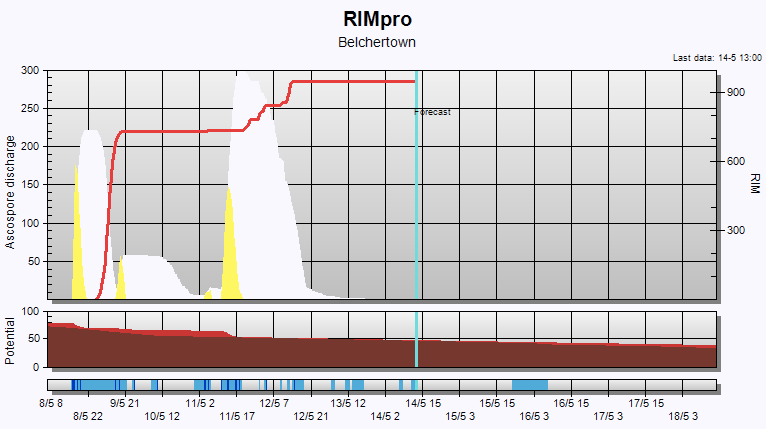 the yellow peak shows the discharge of ascospores during and following a rain event
the white field shows the amount of spores surviving on the leaf surface
the red line indicates the amount of spores that has finished the germination process and is infecting the leaf regardless of leaf wetness
RIM values over 300 are considered high infection risk
Regarding fire blight, here is the current RIMpro output: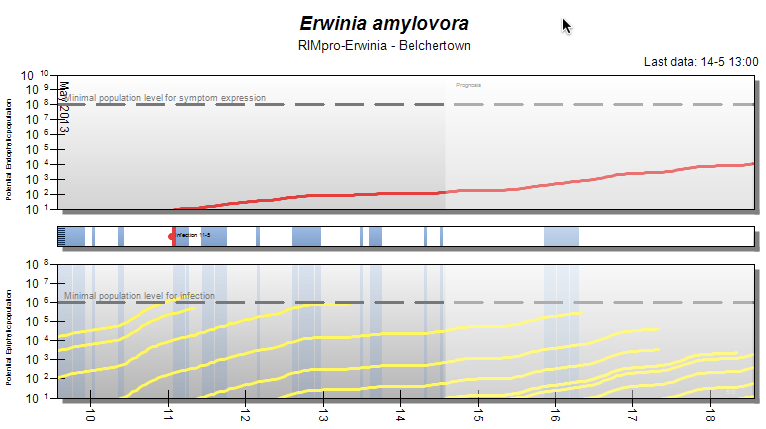 Although the graph needs some explanation, the bottom line is there was a potential fire blight infection on Saturday, May 11. You should have applied streptomycin to open apple or pear blossoms just prior toor just after that potential infection event. Otherwise, from today (May 14 on) there is not enough heat to develop the bacteria enough to present an infection risk for the foreseeable future.
---
Horticulture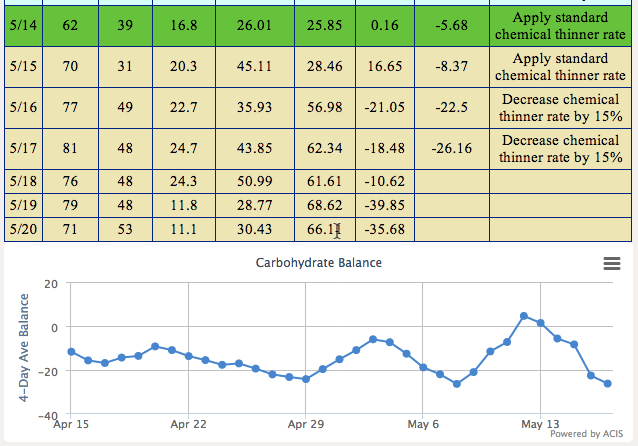 Although Duane Greene would suggest that the model is not as useful right at petal fall, it will become more useful as we approach the traditional thinning window of app. 10 mm fruit size. For now, take the last column to heart -- if it says "Increase" or "Decrease" the "standard chemical thinner rate" then you are advised to do so. I hope to see a better explanation of how to interpret the model soon and will reference it as soon as I have it. For now, looking a day or two out, it suggests that trees will be in a carbohydrate deficit and will hence be "easier" to thin. Thus, it suggests reducing the chemical thinner rate by 15%. If one were using Fruitone at this time at a "standard" rate of 4 oz. per acre, then you might want to consider reducing that to 3 oz.per acre. Make sense?
---
Useful links
UMass Fruit Advisor: http://umassfruit.com
Scaffolds Fruit Journal: http://www.nysaes.cornell.edu/ent/scafolds/
Network for Environment and Weather Applications (NEWA): http://newa.cornell.edu
Follow me on Twitter (http://twitter.com/jmcextman) and Facebook (http://www.facebook.com/jmcextman)
UMass Vegetable & Fruit IPM Network (on Facebook, http://www.facebook.com/umassipmteam)
---
The next Healthy Fruit will be published on Tuesday, May 21 or thereabouts, 2013. As always feel free to get in touch with any member of the UMass Fruit Team (http://extension.umass.edu/fruitadvisor/team-members) if you have questions or comments.