Volume 21, Number 5. April 30, 2013.
---
Contents
Current degree day accumulations
Guest article: TAKING CARE OF APPLE TREES BEFORE, DURING, AND AFTER PLANTING
---
Current degree day accumulations
Location: UMass Cold Spring Orchard, Belchertown, MA
| | |
| --- | --- |
| | 29-April, 2013 |
| Base 43 | 204 |
| Base 50 | 102 |
---
Current bud stages
Location: UMass Cold Spring Orchard, 29-April, 2013
| | |
| --- | --- |
| Honeycrisp apple | tight cluster |
| McIntosh apple | tight cluster + |
| Rainier cherry | white bud |
| PF-14 Jersey peach | pink-bloom |
| Gold Bosc pear | green cluster |
See pictures of current bud stages here: http://extension.umass.edu/fruitadvisor/apr-29-2013-bud-stages
---
Upcoming pest events
Coming events

Degree days
(Base 43)

Green fruitworm flight peak

102-216

Redbanded leafroller 1st catch

234-368

Spotted tentiform leafminer 1st oviposition

143-273

Green apple aphid present

111-265

Rosy apple aphid nymphs present

134-244

Obliquebanded leafroller larvae active

158-314

European red mite egg hatch

231-337

Oriental fruit moth 1st catch

225-329

Pear psylla 1st egg hatch

174-328

McIntosh pink

275-319
---
Upcoming meetings
May 8 (Wednesday): University of New Hampshire/UMass Tree Fruit Growers' Meeting, Brookdale Fruit Farms,41 broad Street, Hollis, NH. 5:15-7:30 PM. 2 pesticide recertification credits available. See meeting flyer here.

May 14 (Tuesday): UMass Fruit Team Twilight Meeting, UMass Cold Spring Orchard, 391 Sabin St., Belchertown, MA. 5:30 PM. 1 pesticide re-certification credit will be available. $20/25 meeting charge.
May 16 (Thursday): University of Rhode Island/UMass Fruit Twilight Meeting,Old Stone Orchard, 33 Cold Brook Rd., Little Compton, RI. 5:30 PM. 1 pesticide re-certification credit will be available. $20/25 meeting charge.

---
The way I see it
Now it is getting a bit dry. We may be in uncharted territory, but if I was able to begin irrigating my trees -- particularly dwarf and young plantings -- I would. Newly planted trees should definitely be getting water. Take a look at the NEW NEWA Apple Irrigation/EvapoTranspiration Model. If anyone out there is listening, I/we coud use a better explanation of the model results.
We still have not had a significant scab infection period in Belchertown, nor is any forecasted. Spore maturity is at about 25% according to most models. Don't foget, however, that pink is the time fungicides must start to be applied for mildew, so make sure to use a mildew-effective fungicide -- see this table Effectiveness of Fungicides for Management of Apple Diseases. (Print it out and hang it on your wall as I have done for season-long reference!)
I have caught tarnished plant bug (one) and Oriental fruit moth (many) in traps at the UMass Orchard so it has finally warmed up enough for insect activity to be on your radar screen.
Make note of the fact that our first May twilight meeting is next week on May 8 (Wednesday) at Brookdale Fruit Farm in New Hampshire. On May 14 we will meet at the UMass Orchard in Belchertown and on May 16 we are headed to the Rhode Island shore (Little Compton). So mark your calendar!
JC
---
Insects
Pheromone traps for Oriental Fruit Moth (OFM) should be placed to determine the first catch of overwintering moths. First adult moth catch was app. April 29 at the UMass Orchard in Belchertown.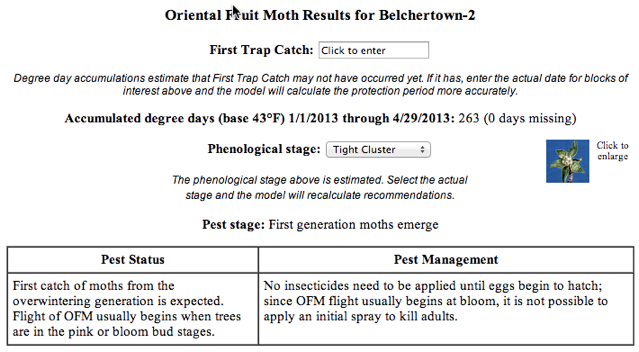 Tarnished plant bug (TPB) management consists of hanging white sticky traps to establish a threshold (of 5) for treatment. Alternately, 5 TPB observed per 100 clusters. Pyrethroid insecticides applied at pink (to apple and peach) are most effective against TPB, however, weigh the downside of pyrethroid use -- being hard on predatory/beneficial insects -- before controlling with sprays. Pyrethroids will also control rosy apple aphid (RAA). For more information, see the article in this week's Scaffolds Fruit Journal 'Tarnished Plant Bug Biology and Management.'
---
Diseases
As mentioned, still no apple scab infection periods since green tip. The next rain event, however, is likely to be a major scab infection period.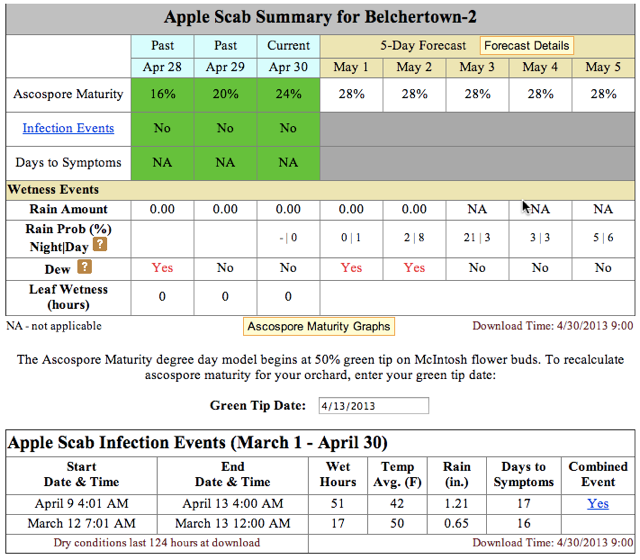 Powdery mildew (PM) control is essential beginning at tight cluster to pink. Be sure to include an effective PM fungicide with most every spray beginning now and continuing through 1st cover. Best PM fungicides arethe DMI's (Indar, Inspire Super, Procure, Rally, and Topguard and the SDHI's (Fontelis, Luna Sensation/Tranquility, Merivon, and Pristine).
Brown rot in stone fruit is not a huge concern with this dry weather, however, bloom is always a good time to apply brown rot sprays to get a start on control. Any sign of moisture druing bloom, such as heavy dew, might trigger a brown rots spray, particularly in cherry and nectarine. Consult the 2013 New England Tree Fruit Management Guide for control options (there are many), however, Bravo is most commonly used during bloom although it's efficacy is only rated as good compared to the DMI's (such as Indar, Rally, Orbit, Elite) excellent rating .
---
Horticulture
It's still not too late to apply prebloom nutrient sprays. These include nitrogen, boron, and zinc. A general formula is 3 lb. spray urea + 1 lb. Solubor + EDTA Zinc chelate at label rate per 100 gallons spray. See the fact sheet "Prebloom "Nutrient Applications for Apple Trees" on the UMass Fruit Advisor: http://extension.umass.edu/fruitadvisor/sites/fruitadvisor/files/fact-sheets/pdf/F-126prebloomnutrient.pdf
Soak tree roots in water for 24-48 hours before planting; this fully 'hydrates' the tree, very important given how dry the soil is now; water-in trees and/or apply irrigation ASAP. Note the results below of the NEW NEWA Apple Irrigation/EvapoTranspiration Model. If anyone out there is listening, I coud use an better explanation of the results, but something is telling me these trees are under a water deficit!

Use Gallery/Prowl H2O or Surfaln for pre-emergent weed control in the tree rows of newly planted trees. Has good crop safety, and Gallery is very effective on broadleaf weed seedlings.
Guest article: TAKING CARE OF APPLE TREES BEFORE, DURING, AND AFTER PLANTING
Mario Miranda Sazo, LOFT, mrm67@cornell.edu; Terence Robinson, Horticulture, tlr1@cornell.edu; Steve Hoying, Horticulture, sah19@cornell.edu; and Mike Fargione, ENY Hort Team, mjf22@cornell.edu
Reprinted from Scaffolds Fruit Journal, April 29, 2013, Volume 22, No. 6.
Only a relatively small proportion of Western NY fruit growers had optimal soil moisture conditions for early tree planting. A few of them also successfully incorporated the use of GPS-guided apple planting for precisely straight rows. We congratulate those growers who were able to plant trees early and those who are adopting more precise orchard management practices.
The majority of trees in WNY are still waiting to be planted. It is now extremely important to keep your trees in good condition while waiting to plant. We recommend the following: (1) when you receive trees, open the boxes and the plastic box liner to prevent fungal development on the trees and to allow trees to breathe, (2) inspect trees for quality and condition, contact the nursery immediately if anything is wrong, (3) check to see that roots are moist and covered; if not, water well, (4) store in a cooler or cold room at 34°F. The room should have been well aired to remove any ethylene remaining from stored apples, (5) if a cold room is not available, find a root cellar or common storage that stays as cold as possible. Do everything you can to prevent nursery trees breaking dormancy before planting; trees already growing in the box will use limited reserves to re-grow those shoots in the field, (6) never store nursery stock with apples. The ethylene gas will severely damage trees, (7) plant as soon as soil conditions warrant, and (8) do not plant if the soil is still too wet.
There are different ways to plan, prepare, and establish a successful high-density apple orchard. However, the decisions made now and methods used this year for establishing that orchard will have consequences for the next 20 years. We stress the importance of (1) advance planning for a minimum of two years to get the proper tree with the right rootstock and to prepare the soil well the year before, (2) the use of nursery trees of excellent quality, whether they are bought or produced on the farm, (3) early spring or fall planting to allow early root establishment and maximum tree growth in the first year, (4) quick installation of trellis support and irrigation lines soon after planting, and (5) optimal leader growth of 18–24" for each of the first 2–3 years as a result of a balanced nutritional program, irrigation, excellent weed control and overall good orchard management.
Today a modern high-density planting must be supported with 12-foot posts so trees are properly supported to quickly reach the top trellis wire (10 feet) by the end of the second or third year. A good, strong, and tall support system for a high-density orchard must be viewed as an investment (rather than just an orchard establishment cost!) that allows fruit production in the early years while preserving the vertical tree structure (without ever allowing the top to bend if unsupported!) and developing a full canopy for future large, mature yields from the bottom to the top of the tree.
Planting the Young Apple Tree Carefully
The roots of a young Tall Spindle apple tree contain much stored nitrogen, hormones, and other elements, which are used in forming both new root growth and new top growth. Any broken or injured roots should be trimmed off, but the root system should not be reduced more than necessary prior to planting. Once your soil has dried out sufficiently and you are able to plant, keep your trees out of the sun and protected from drying winds (never allow the roots of the tree to dry out). If possible, soak pond, tub or barrel. Growers should plant trees with at least 4–6 inches of rootstock out the ground. The soil should be packed firmly around the roots in order to establish good contact. At about two weeks after planting, the trees should receive a small dose of nitrogen (1/4 lb of calcium nitrate) carefully applied in a doughnut shaped band around each tree.
Pruning and Managing the Tall Spindle Apple Tree after Planting
If you plant a Tall Spindle apple block, you should not head the leader. Heading of the leader of a young apple tree after planting is undesirable, as it removes a significant portion of the tree structure already produced in the nursery. Even if a whip is planted, the leader is not pruned or headed at planting for the Tall Spindle system. Heading the leader disrupts and changes forever the natural growth and branching patterns of a young apple tree on a dwarfing rootstock intended to be grown as a Tall Spindle tree. Instead of heading a whip, we recommend applying Maxcel (500 ppm) to stimulate branching of an "unheaded" whip to obtain a more "calm tree" without much new upright growth as a result of the heading cut. The Maxcel should be applied at a rate of 6.4 ounces/gallon with a backpack sprayer using a single nozzle to the leader from the tip down to 24 inches above the soil at 10–15 days after bud break. To improve branching even more, you may combine the Maxcel treatment at 10–15 days after bud break with scoring (at bud swell) above every other bud along the leader from 24 to 45 inches high.
If you plant a Tall Spindle apple block with feathered trees, you should remove any feathers larger than 2/3 the diameter of the leader with a bevel cut; if there are less than three feathers, remove them with a bevel cut and treat the tree as a whip as described above.
Branch Management of Moderate and Highly Vigorous Apple Trees
It is essential with Tall Spindle orchards planted below horizontal soon after planting (before mid-June). Growers should invest the necessary time and effort to manage feathers of a young Tall Spindle orchard if the trees are growing vigorously. For example, all feathers on Fuji or Macoun (two vigorous apple cultivars) should be tied or weighted down below the horizontal at planting or before mid-July to induce cropping and to prevent them from developing into large lower scaffolds. Tying is best done within one month of planting, but can also be done in June, July, and even until August. The following materials are particularly suitable for tying down feathers below horizontal for the Tall Spindle system: (1) a strip of 5/8"-wide Avis-strap nailed or tied from the base of the trunk, then split into strands and tied to each of the lower feathers, (2) a pre-cut 20-inch black annealed wire (sold in 1000 pieces/bundle), each hooked around the feather directly down to the trellis wires, the conduit pipe or bamboo supporting pole, or the main trunk, and (3) a 4-inch long ghent rubber band (six-month-life with 880 rubber bands per bag) where the rubber band is tied on the trunk and the feather is placed through the band when it is stretched out. After about 4–6 months, the rubber band stretches and is less effective for strong feathers, while Avis-strap strings and the pre-cut black annealed wire are suitable for bending both weak and vigorous feathers.
Ensuring Great Tree Growth the First Year
After the trees are planted, the graft union height is adjusted, the trees are pruned and feathers are tied down, growers should focus on the basics of good tree management the first year: 1) Excellent weed control through the end of August, (2) regular small doses of nitrogen (1/4 lb of CaNO3 every month for the first 4 months), and (3) good water supply to minimize water stress of the young tree. Using trickle irrigation, apply small amounts of irrigation water (3–5 gallons per week) each week of the growing season unless sufficient rain falls that week. Growers can now precisely determine how much water to apply to newly planted apple orchards using the Cornell apple irrigation website on the NEWA webpage at: http://newa.cornell.edu/index.php?page=apple-irrigation

---
Useful links
UMass Fruit Advisor: http://umassfruit.com
Scaffolds Fruit Journal: http://www.nysaes.cornell.edu/ent/scafolds/
Network for Environment and Weather Applications (NEWA): http://newa.cornell.edu
Follow me on Twitter (http://twitter.com/jmcextman) and Facebook (http://www.facebook.com/jmcextman)
UMass Vegetable & Fruit IPM Network (on Facebook, http://www.facebook.com/umassipmteam)
---
The next Healthy Fruit will be published on Tuesday, May 7 or thereabouts, 2013. As always feel free to get in touch with any member of the UMass Fruit Team (http://extension.umass.edu/fruitadvisor/team-members) if you have questions or comments.